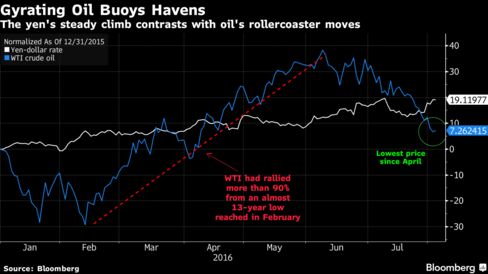 Asia stocks extended their drop as oils selloff revived concerns over global growth and after Japans fiscal stimulus package fell short of what some investors had expected. High-yielding currencies retreated.
Japans Topix index slipped for a third day after the yen, which typically moves at odds with local shares, jumped 1.5 percent last session. Crude halted losses below $40 a barrel before an update on U.S. oil inventories, while gold was near its highest price since July 11. The Korean won weakened with the Malaysian ringgit as New Zealands currency also slipped.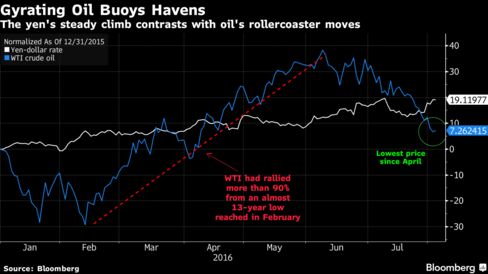 A four-week advance in global equities has faltered as crude descended into a bear market. With investors looking to central banks and governments around the world to shore up growth, Japans announcement Tuesday that it would boost spending by 4.6 trillion yen ($45 billion) in the current fiscal year failed to ignite optimism that Prime Minister Shinzo Abe can revive the worlds third-biggest economy. The Bank of England is projected to cut rates Thursday.
After all the build-up, its a disappointment, Shane Oliver, a global investment strategist at AMP Capital Investors Ltd. in Sydney, which manages more than $110 billion, said by phone, referring to Japans fiscal stimulus announcement. This will be negative for Asian stocks Wednesday, reflecting the negative response weve already seen in the U.S. and Europe overnight, he said.
A slew of services purchasing managers indexes are due Wednesday, with figures from China showing a slower pace of expansion in July than in June. Thailand is projected to hold benchmark rates in a policy review.
Stocks
The MSCI Asia Pacific Index sank 1.2 percent as of 10:50 a.m. Tokyo time, set for its lowest close in almost a week, as all 10 industry groups declined.
Australias S&P/ASX 200 Index slipped 0.8 percent amid losses in banks. The Kospi index in Seoul slid 1 percent. Hong Kongs Hang Seng Index sank 1.6 percent as trading resumed after the market was shut on Tuesday because of a storm. The Topix lost 1.4 percent, and is down more than 3 percent this week.
A risk-off mood is coming to the forefront, said Chihiro Ohta, a senior strategist at SMBC Nikko Securities Inc. in Tokyo. In Japan, where many companies, especially in the auto sector, are easily affected by currency moves, the strength in the yen weighs on the overall profits for listed firms.
E-mini futures on the S&P 500 retreated 0.1 percent to 2,151.25 after the underlying index slipped 0.6 percent Tuesday, led lower by retailers and industrial stocks. The S&P 500 Index notched its first back-to-back declines since the aftermath of the U.K.s decision to quit the European Union.
Currencies
The yen weakened 0.3 percent to 101.24 per dollar, after touching 100.68 on Tuesday, its strongest level since July 11.
The governments plan incorporates 13.5 trillion yen of fiscal measures — including 7.5 trillion yen in new spending starting this year, and 6 trillion yen in low-cost loans.
For more on Japans fiscal stimulus boost, click here.
The Bloomberg Dollar Spot Index, a gauge of the U.S. currency against 10 major peers, added 0.1 percent, after sliding 0.6 percent in the previous session amid waning bets on the Federal Reserve raising interest rates in 2016.
The kiwi retreated 0.6 percent to 72 U.S. cents after jumping 1 percent last session, while the ringgit and the won were down at least 0.4 percent.
Bitcoin tumbled after one of the largest exchanges halted trading because hackers stole about $65 million of the digital currency. Bitcoin slumped 4.2 percent against the dollar, bringing its three-day drop to 18 percent.
Bonds
Australian notes due in a decade yielded 1.92 percent, up 10 basis points after they slid to an all-time low on Tuesday. The Reserve Bank of Australia delivered its second quarter-point cut for 2016 on Tuesday, taking the cash rate to a record-low 1.5 percent, as expected by a majority of economists and investors.
Yields on 10-year New Zealand debt added three basis points to 2.2 percent, while rates on similar maturity Treasuries held at 1.56 percent, following a two-day advance of about 10 basis points.
Bill Gross, the former chief investment officer of Pacific Investment Management Co., reiterated his warning on government debt Tuesday after yields touched all-time lows in the past month. The danger of the unprecedented rally, as Gross sees it, is that any reversal will be painful for investors.
Commodities
West Texas Intermediate crude added 0.8 percent to $39.81 a barrel, after falling 5 percent over the past two sessions.
The decline is not totally unexpected, but the speed and severity of the fall has been a surprise, said Daniel Hynes, senior commodity strategist at Australia & New Zealand Banking Group Ltd. in Sydney. Disruptions tightened the market during the second quarter and the sustainability of those was always going to be relatively short lived. There are still relatively high inventories but the market is approaching a balance.
U.S. oil inventories dropped by 1.34 million barrels and gasoline stockpiles fell, the American Petroleum Institute was said to have reported. Government data out Wednesday is forecast to show crude and motor fuel supplies decreased.
Gold for immediate delivery was little changed at $1,364.78 an ounce.
Read more: www.bloomberg.com